Large Rare Taoist God of Thunder Lei Gong (, Lei Kung) Wood carved Deity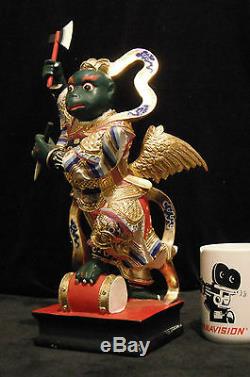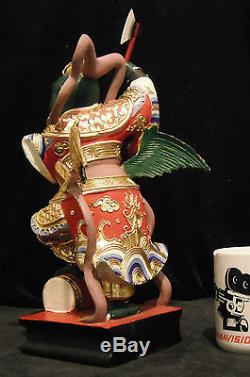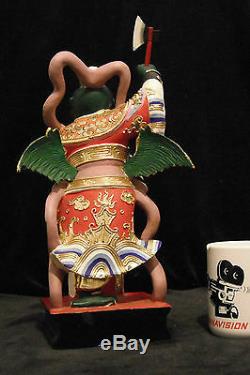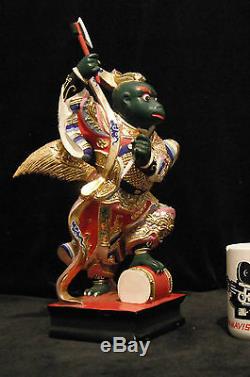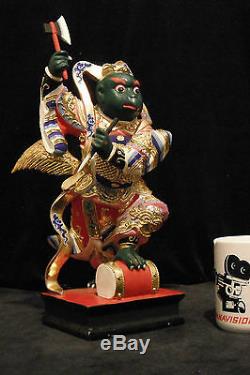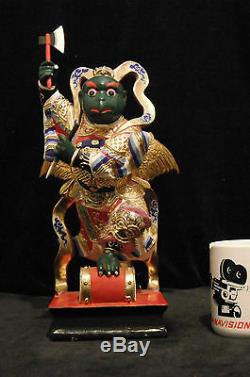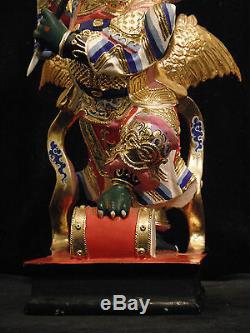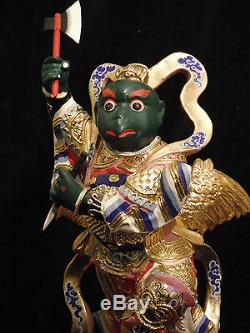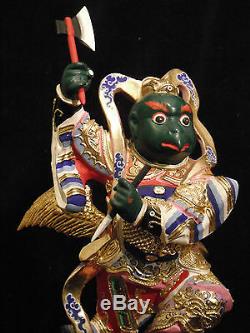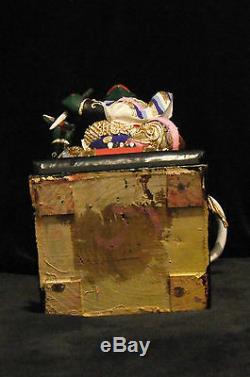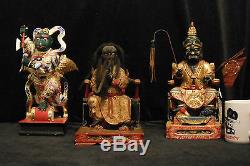 Large Rare Taoist God of Thunder Lei Gong. Hard carved Deity with Gold Gilt. Height 12 inches (30.5 cm). Height with Mallet 14 inches (35.6 cm).
Depth at Wings 6 inches (15.2 cm). Base Width 5 inches (12.7 cm).
Base Depth 4.5 inches (11.4 cm). This is a rare hand carved solid wood statue of. Pinyin: léi gng; Wades-Giles: lei2 kung1; literally: "Lord of Thunder" or Lei Shen Chinese. Pinyin: léi shén; literally: "God of Thunder", is the Chinese traditional folk religious and Taoist deity. In Taoism, when so ordered by heaven, punishes both earthly mortals guilty of secret crimes and evil spirits who have used their knowledge of Taoism to harm human beings. Lei Gong carries a drum and mallet to produce thunder, and a chisel to punish evildoers. Ome people honor him in the hope that he will take revenge on their personal enemies. He assists in providing rain for harvests and when worshipped can be accompanied by Yu Shih the master of rain. This hand carved immortal is 12 ½ tall and with mallet in hand stands 14 tall the base is 5 wide by about 4.5 deep and in the middle of the statue it is about 6 deep. Every aspect of the figure has been addressed if it is in view or not. The condition is excellent the gold is bright all the colors are deep and vibrant.
There are just a couple of spots on the base He is a deity who has evolved in appearance with origins in nature worship, Lei Kung was personified about the beginning of the Christian era (then as a handsome man holding a hammer & chisel whose movements were punctuated by strings and drums) his image was transformed about 1000 years ago to a birdlike creature with the face of a monkey. It is believed this new form derives from the Hindu god Garuda (the mount of Vishnu). This rendition is splendid with gold armor and wings the clouds painted on his golden ribbon symbolizing his ability of flight his bird like talons holding the drum. Both the mallet and chisel are separate carvings. This Taoist statue is part of our large collection after a lifetime of collecting.
The iconography is superb the execution traditional and the skill at the highest level. This is an authentic museum quality rendition of the Taoist Deity. Please see all the pictures for the condition and composition of this work of Taoist art I have include a group picture of the three I just listed. If you have a special request we will do our best to adjust the schedule to accommodate your schedule.
It is my intention to be as clear and accurate as possible. In the event I make an error, I will always do my best to remedy the situation. Please feel free to contact me with any questions. Coffee cup is for scale purposes only. The spelling of different deities can vary in the English language because the translation is phonetic and the pronunciation and subsequent spelling varies.
It is believed that a bolt of lightning erupting in the midst of the dark universe disrupts the primordial chaos. Hence at the beginning of time, chaos is altered into order by lightning. Thunder and lightning are worshipped by the primitive because it is one of the greatest forces in the Universe that is feared by man. In Chinese mythology, Lei Gong or Lei Shen, is the Chinese traditional religious and Taoist deity, who is the lord of thunder as well. He rides a chariot driven by a young boy named A Xiang. He is portrayed as having a green face and body, he resemble a bird like creature his face has a beak. In Buddhism he is a Dharma protector.
The noise of thunder-caused by the beating of the drum- is believed to ward off evil spirits. It is believed his feature derives from the Garuda, a mystical bird-like creature who was the messenger or vehicle of the Hindu god Lord Vishnu. He bears a close resemblance to the Garuda as expounded in Hindu text and Buddhist sutras as one of the. Eight class of mystical beings. Since Lei Gong's power is thunder, he has assistants capable of producing other types of heavenly phenomena.
("Mother of Lightning"), also known as Tian Mu or Lei Zi, is Lei Kung's wife and the Goddess of Lightning, who directs his lightning bolts with her mirror. Other companions are Yun Tong ("Cloud Youth"), who whips up clouds, and Yu Zi ("Rain Master") who causes downpours by dipping his sword into a pot. Roaring winds rush forth from a type of goatskin bag manipulated by Feng Bo ("Earl of Wind"), who was later transformed into Feng Po Po ("Lady Wind"). Lei Shen is popularly known as Lei Gong, or Old Man Thunder, a term that first appeared in the works of the poet Qu Yuan, who is celebrated during the annual Dragon Boat Festival. In the sub-tropical region of Guangdong, where thunder strikes most spectacularly, there is a peninsula named after Thunder. Lei Zhou or Land of Thunder. Legend has it that a man from the peninsula went hunting one day, he found an egg and brought it home with him. A child hatched from the egg with these two characters written on his palms. There is still a temple dedicated to Lei Shen in Lei Zhou today. Beings of all kinds, divine and demonic walk the Earth, unnoticed by most humans.
They can conceal themselves, yes, but the fact that they remain unnoticed is mainly because they are on a different level of existence from us, having evolved beyond the physical, and are therefore beyond being detected by our five senses. And apparently this limitation works both ways - it prevents them from exerting their influence on Earth as directly as they would like to. This concept of an existential gulf between mortals and spiritual beings actually aligns pretty well with certain aspects of quantum theory, which state that only objects of similar vibration frequencies may co-exist on the same plane; who says science and religion can't co-exist?
The item "Large Rare Taoist God of Thunder Lei Gong (, Lei Kung) Wood carved Deity" is in sale since Wednesday, October 1, 2014. This item is in the category "Antiques\Asian Antiques\China\Figurines & Statues". The seller is "toronita1" and is located in Port Orange, Florida. This item can be shipped worldwide.
Primary Material: Wood
Age: Post-1940
Region of Origin: China
Original/Reproduction: Original